Hannah

Stats

Position
Unknown
Age
Unspecified, possibly mid to late 30's.
Hair
Blonde
Family
Unknown
Status
Dead
First Appearance
"Days Gone Bye" (Zombified)
Last Appearance
"Days Gone Bye" (Corpse)
Death
Killed by walkers. (Alive) Shot by Rick. (Zombified)
Ethnicity
Caucasian-American
Hannah
is a character in 
The Walking Dead: Splatterpunk
. She is one of the first walkers that 
Rick Grimes
 encounters after he awakes from his coma. She is introduced in 
"Days Gone Bye"
.
Pre-Apocalypse
Edit
Almost nothing is known about Hannah's life before the apocalypse. It has been revealed that the story of her life will be explored sometime within the future.
Post-Apocalypse
Edit
It is unknown just how long Hannah managed to survive after the initial zombie epidemic. It is known that she died within the first month-and-a-half. Sometime after that, she reanimated as a zombie. She was encountered half-devoured and crawling through a park in Rick's hometown after he woke from his coma in Harrison Memorial Hospital. Later, Rick returns to the park and puts Hannah down.
Killed By
Edit
Sometime after the apocalypse began, Hannah was attacked and killed by walkers. Her body was half-eaten. Later, she reanimated and began to crawl through an abandoned park.
Rick was deeply saddened by the appearance of the zombified Hannah, and returned to the park sometime after leaving 
Morgan's
 group to search for his wife and son in 
Atlanta
. He shot her in the head and ended her misery.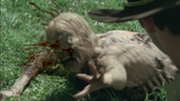 Killed Victims
Edit
This is a list of victims that Hannah has killed:
Possibly numerous counts of zombies.
Hannah is one of many characters to first be introduced into the series as already zombified.
Hannah is one of a few characters whose storylines will be further explored in the near future.