Summer

Stats

Position
Presumed elementary school student.
Age
Unspecified, 8-11
Hair
Blonde
Family
Jon - (Father)

Barbra - (Mother)

Status
Dead
First Appearance
"Guts" - (Zombified)
Last Appearance
"Guts" - (Corpse)
Death
Killed by walkers. (Alive) Shot by Rick. (Zombified)
Ethnicity
Caucasian-American
Summer 
is a character in 
The Walking Dead: Splatterpunk
. She is the daughter of the couple of 
Jon
 and 
Barbra
. This character is first introduced in the chapter 
"Guts"
.
Pre-Apocalypse
Edit
Almost nothing is known about Summer's life before the initial zombie epidemic began to consume the people of the United States and the world, other than the fact that Barbra and Jon were her mother and father, and that they appeared to be quite a happy and young family.
Post-Apocalypse
Edit
Sometime after the dead began to walk the earth, Summer and her parents found themselves in rural Georgia (It is unknown where the family actually lived, but it is presumed that they lived near Rick's hometown.), and in a group of an unknown number of people. It is known that one other member of the group was Josh. At one point at least a month into the apocalypse, Summer went missing. The group posted at least one sign, telling Summer that they were looking for her and that if she saw the sign to stay where she was. Rick, after running out of gas and stopping at a gas station filled with hundreds of abandoned vehicles, encountered a zombified Summer, and shot her in the head when she began to charge him. Later, Rick discovered the sign that the rest of her group had posted while walking. After this, there is no further mention of Summer.
Killed By
Edit
Sometime after Summer went missing, she ended up at an abandoned gas station, where she was overwhelmed and killed by walkers. She reaniamted an unknown time later as a zombie.
When Rick discovers the reanimated Summer, he shoots her in the head, hoping that 
Carl
 hasn't met the same fate as this girl.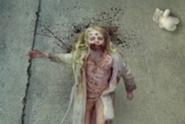 Killed Victims
Edit
This is a list of victims that Summer has killed:
Possibly numerous counts of zombies.